| The Nature Keepers (Bestow) by J.S. Kirkland
Summary: The Nature Keepers, who govern the natural world, are deeply divided in their intentions towards our world and are embroiled in a bitter conflict that threatens the future of all humankind. Six young people, previously unaware of their extraordinary family legacy, discover they have been bestowed with gifts of profound meaning and power—vital to defending humankind. They accept the call to crossover to the world of the Nature Keepers to join forces in the fight against menacing rivals—who were once friends and allies. Share in their heart-breaking defeats and exhilarating triumphs as these young people test their courage against all odds and prevail, having acquired strengths they never knew they had, wisdom beyond their years, and an understanding of true love and individual destiny.
Review
______________________________________________________
Kirkus Reviews
In this debut Young Adult fantasy novel, a group of cousins carry on a family legacy of battling evil in a fantastic kingdom. Eighteen-year-old Tyler Scott awakens during the night as an intense storm rages outside. He's been having a recurring dream about sea horse–like creatures pulling a giant sailing ship through blue fog. He saw the same ship in real life while he was looking through his father's powerful telescope. It turns out that his dad, professor Caleb Scott, knows all about the mysterious Blue Galleon. Twenty-one years ago, he and his siblings, Ella and Remy, traveled in it to the realm of Turena, the home of the Nature Keepers, who govern the powers of life and death on Earth. There, they fought for the Light Keepers against the Dark Keepers. A generation later, the Light Keepers need more help from the Scott family, which includes Tyler; his 15-year-old sister, Samara; and their cousins, Cyrus (17), Mantha (15), Maggie (10), and Noah (8). The six kids, along with Abigail, Caleb's departmental assistant, travel to Turena on the Blue Galleon. Each carries a powerful artifact, such as Mantha's Waterstone Ring, which can turn her invisible. Queen Alexandra enlists the clan to retrieve the Scepter of Light from the lair of the evil Barrell, who's closer than ever to creating lasting darkness. For this series opener, Kirkland presents an engaging, structured world for young nature enthusiasts to explore. Real-life astronomical facts (about the blue-moon phenomenon, for example) accompany striking fantasy tableaux, including the Sea of Clouds, where "jellyfish floated into the sky like translucent, pastel-colored balloons, their tentacles fluttering like silk ribbons." The tale's central message that "the actions of humans can also influence Nature" is an important one for young readers to grasp. Kirkland's large cast never feels like a faceless squad because the author fleshes out everyone carefully—from Markis, Keeper of the Light, to Baybourn, queen of the wasp warriors. Well-crafted relationships between characters and the seeding of important concepts throughout should win over fantasy fans looking for a fresh series. A boisterous, environmentally savvy adventure.
_____________________________________________________
More at: https://booklife.com/project/bestow-32215
Available on Amazon at: https://www.amazon.com/Bestow-Nature-Keepers-Book-1/dp/0692942505/
| Girls Like Us
Carole King, Joni Mitchell, Carly Simon–and the Journey of a Generation
A groundbreaking and irresistible biography of three of America's most important musical artists—Carole King, Joni Mitchell, and Carly Simon—charts their lives as women at a magical moment in time.
Carole King, Joni Mitchell, and Carly Simon remain among the most enduring and important women in popular music. Each woman is distinct. Carole King is the product of outer-borough, middle-class New York City; Joni Mitchell is a granddaughter of Canadian farmers; and Carly Simon is a child of the Manhattan intellectual upper crust. They collectively represent, in their lives and their songs, a great swath of American girls who came of age in the late 1960s. Their stories trace the arc of the now mythic sixties generation—female version—but in a bracingly specific and deeply recalled way, far from cliché. The history of the women of that generation has never been written—until now, through their resonant lives and emblematic songs.
Filled with the voices of many dozens of these women's intimates, who are speaking in these pages for the first time, this alternating biography reads like a novel—except it's all true, and the heroines are famous and beloved. Sheila Weller captures the character of each woman and gives a balanced portrayal enriched by a wealth of new information.
Girls Like Us is an epic treatment of midcentury women who dared to break tradition and become what none had been before them—confessors in song, rock superstars, and adventurers of heart and soul.
More at: https://www.simonandschuster.com/books/Girls-Like-Us/Sheila-Weller/9780743491488
_____________________________________________________
August 26, 2021
Do Nothing: How To Break Away From Overworking, Overdoing, and Underliving
We work feverishly to make ourselves happy. So why are we so miserable? This manifesto helps us break free of our unhealthy devotion to efficiency and shows us how to reclaim our time and humanity with a little more leisure.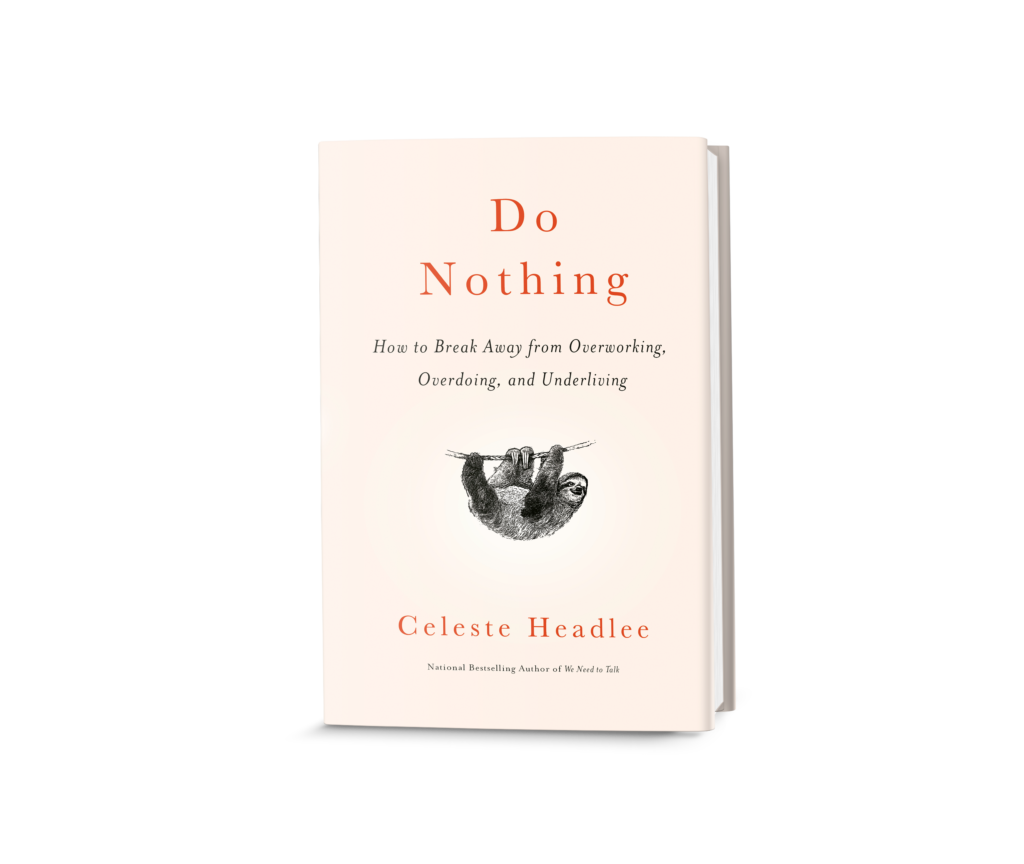 Despite our constant search for new ways to "hack" our bodies and minds for peak performance, human beings are working more instead of less, living harder not smarter, and becoming more lonely and anxious. We strive for the absolute best in every aspect of our lives, ignoring what we do well naturally, and reaching for a bar that keeps rising higher and higher.
Why do we measure our time in terms of efficiency instead of meaning?
Why can't we just take a break?
In Do Nothing, award-winning journalist Celeste Headlee illuminates a new path ahead, seeking to institute a global shift in our thinking so we can stop sabotaging our well-being, put work aside, and start living instead of doing.
As it turns out, we're searching for external solutions to an internal problem. We won't find what we're searching for in punishing diets or productivity apps.
Celeste's strategies will allow you to regain control over your life and break your addiction to false efficiency. You'll learn how to increase your time perception to determine how your hours are being spent, invest in quality idle time, and focus on end goals instead of mean goals. It's time to reverse the trend that's making us all sadder, sicker, and less productive, and return to a way of life that allows us to thrive.