A wave of young Chinese projecting their hopelessness in this way has swept China in recent years
Fan Yuxuan, a trained young mechanic, spends most of his day sleeping or surfing the internet at home in Beijing.
But things were different until he quit his job at an electronic cigarette store two months ago. The job paid 6,000 yuan (US$938) a month but, after a quarrel with a customer, Fan decided he had had enough.
Since then, the 20-year-old has spent most of his time "lying flat", while his parents keep asking around for job openings for their only son.
Fan trained to be a mechanic at a local vocational school, but never quite took to it. However, he did muddle along for the required three years, picking up the "hobby" of smoking along the way.
"I like smoking, so I chose to be a salesman in an e-cigarette shop after graduation," Fan says. "Two years is long enough. I'm bored with handling clients."
Many of Fan's graduating classmates from rural areas took up jobs as skilled workers and technicians in factories in the coastal provinces, the manufacturing hubs of China. But that career path was not for him.
"I don't envy them," he says. "They work so hard but can only earn up to 10,000 yuan a month. The average property price in downtown Beijing is 100,000 yuan per square metre. I don't want to waste my time in such gruelling jobs when the prospects are so bleak.
"There won't be good positions for me. My educational qualifications are too low," he adds. "When it's certain that all my efforts at job seeking will be in vain, why bother?"
Fan's is not an isolated case. Four decades of dazzling economic development has also brought with it a yawning wealth gap, and China's youth are pushing back – with a social resistance movement called tang ping, or "lying flat", where they simply refuse to buy into the "996" culture of week-long overwork.
A wave of young Chinese projecting their hopelessness in this way has swept China in recent years.
Aiming to bring hope to those like Fan, China's top leadership has vowed to ensure that wages improve for skilled workers with vocational training, so they can become a part of the middle class as the country continues towards its goal of "common prosperity", where all citizens share the opportunity to become wealthy.
The world's No 2 economy has a huge shortage of skilled workers, with only about 30 per cent of its labour force holding high school or higher degrees, one of the lowest levels among middle-income countries. However, there is one hurdle to its ambition of having more skilled workers, to boost both manufacturing power and domestic consumption – people just do not want the job.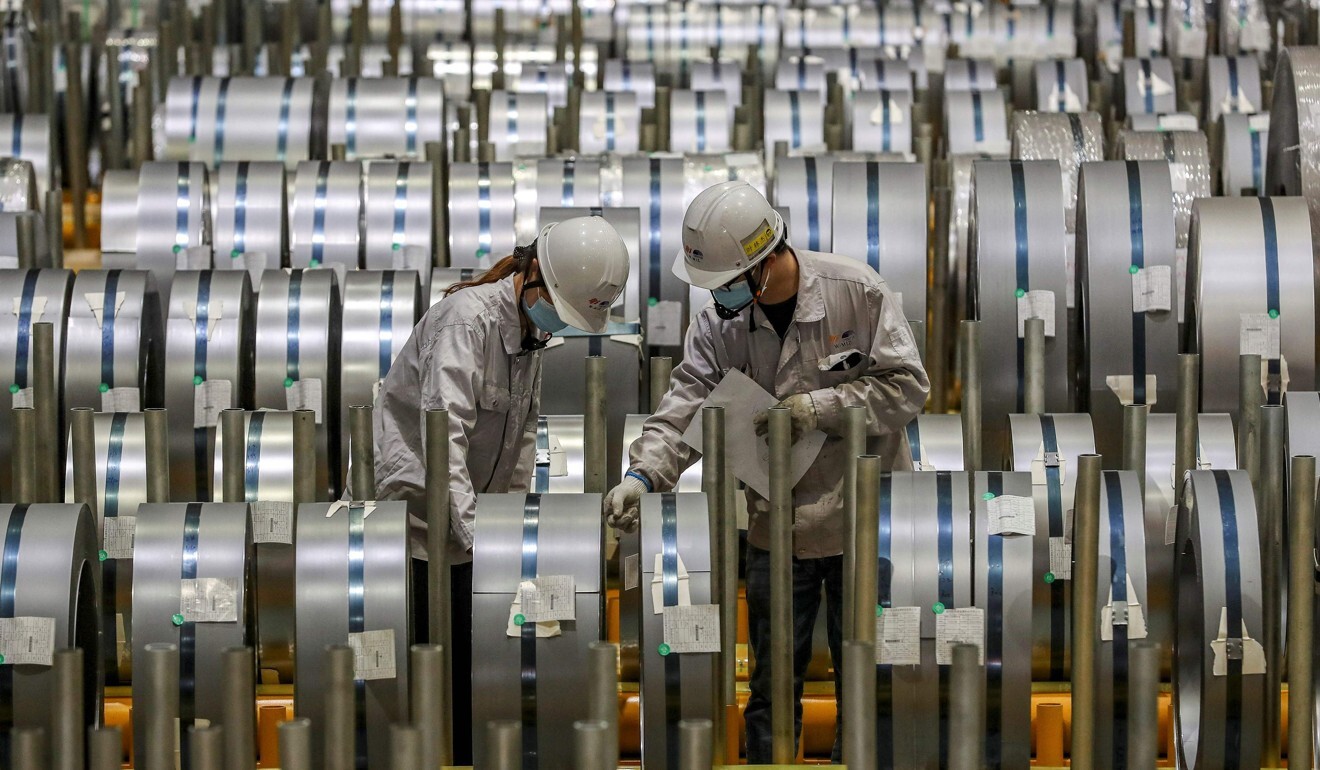 Workers check rolls of sheet aluminium at a factory in Wuhan, in China's central Hubei province. Photo: AFP
In August, President Xi Jinping spelled out his vision for "common prosperity" for the first time. To reach this goal, China would upskill human resources, smoothen the channels for upward social mobility, help them avoid "lying flat" and make skilled workers "a key constituent of the middle class", Xi told a meeting of the Communist Party's Central Committee for Financial and Economic Affairs, which he heads.
To deliver on the promise, the State Council and the party's Central Committee earlier this month issued a set of guidelines on promoting "high-quality development of modern vocational education".
According to the blueprint, by 2025 at least 10 per cent of students enrolled at vocational colleges would have to be in bachelor's degree programmes, with the aim of making China's vocational education system "among the best in the world" by 2035.
China has nearly 10,000 secondary vocational schools and 1,500 vocational colleges. As of 2020, these accounted for 31 million students, or 35 per cent of those aged between 15 and 22. Around 8 million have graduated annually from such campuses in recent years, making up the majority of China's army of skilled workers.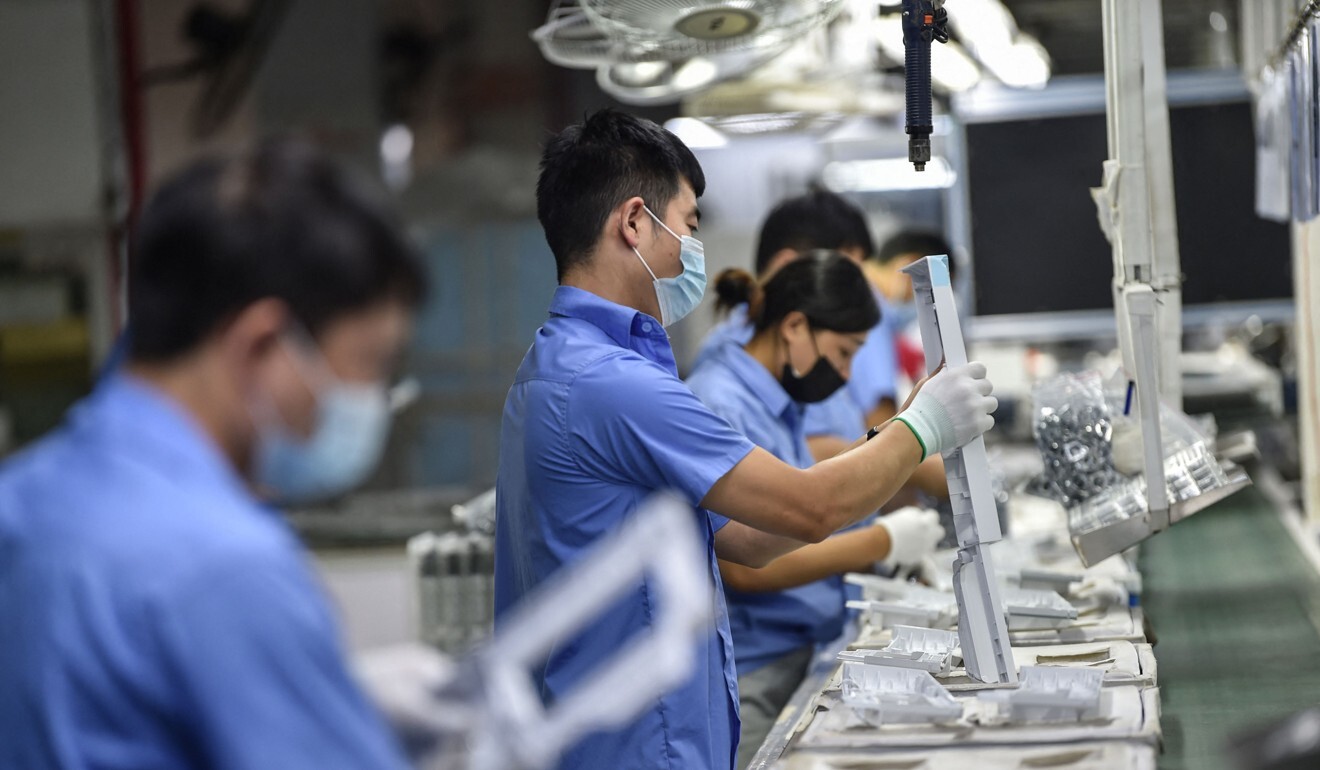 Workers produce washing machine parts at a factory in Nanjing, in China's eastern Jiangsu province. Photo: AFP
However, of the 200 million skilled workers in the country, only 30 per cent are "highly skilled", according to official data.
While China is eager to move up the value chain by developing an advanced manufacturing industry like that in Germany, the gap in terms of a skilled work force is huge. Compared to Germany, China is short of at least 30 million skilled workers in the manufacturing sector, and the gap is expected to widen to 40 million by 2025.
China vows to have those additional 40 million skilled workers by 2025. If no new vocational schools are opened, that would mean almost all graduates from this year on must be skilled workers.
But therein lies the rub. "The problem is young people shun the manufacturing sector," said Xiong Bingqi, deputy director of the Shanghai-based 21st Century Education Research Institute.
"The phrase 'blue collar' in China is linked to low wages, inferior social status, harsh work environments and tedious jobs in traditional industries. With the booming internet sector offering diversified work styles and positions, it is not surprising that many students reject factory jobs," he said.
Opinion polls back up that sentiment. Around 64 per cent of some 26,600 vocational college students in a recent nationwide survey by China Youth Daily said they would not work in factories or construction sites: either because factory life was too dull, offered poor career development prospects and salaries, or because the work environment was unattractive and socialising options were limited.
Less than one-third of the respondents said their former classmates had become electricians, welders or other skilled workers in the manufacturing sector.
Unlike Germany, China worships academic degrees and looks down on skills Xiong Bingqi, deputy director, 21st Century Education Research Institute
Vocational education in China has for decades been plagued by an image problem – being seen as inferior to a university degree. Generally, students with low scores in high school or university entrance exams will enrol in vocational schools, whose graduates are seen as having a lower educational status and find access to competitive pay in big companies or the government civil service largely denied.
As of September, the average monthly salary of fresh graduates from China's top 30 vocational colleges was 6,276 yuan, 30 per cent lower than the average for graduates of the top 100 universities and colleges, according to Shanghai-based salary data provider Xinchou.cn.
"China has been learning from Germany for decades in training skilled workers. The ultimate reason behind limited progress in this regard is that, unlike Germany, China worships academic degrees and looks down on skills," Xiong said.
Discrimination against vocational education should end, starting with increased government funding for such schools, he said.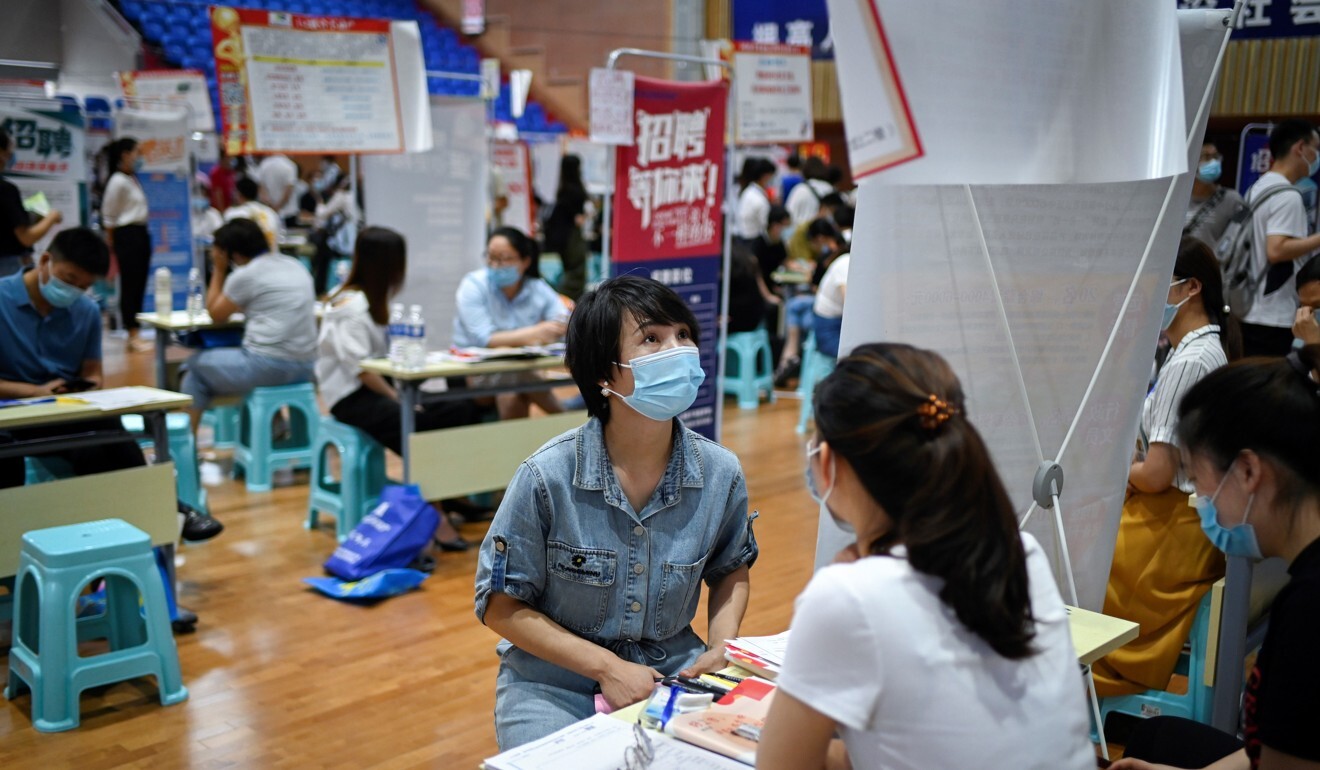 Jobseekers at a career fair in Zhengzhou, Henan province. Photo: AFP
Official funding for vocational schools and colleges last year was less than 40 per cent of that awarded to high schools and universities, according to official data. Additional financial support would allow the schools to update their curriculum and teach students the relevant skill sets sought by companies, Xiong said.
This would certainly help those like Su Xiaojian, who joined a state-owned enterprise in Baotou, Inner Mongolia, after graduating from a local vocational college in 2019.
The mechanics and numerical control major learned computer-aided design and drafting, programming and a variety of other subjects at school, which helped him to adapt well at the factory. But hi-tech fields – such as robotics and artificial intelligence training – remain out of reach.
Su's monthly salary is higher than the local average and he has already bought a flat in Baotou. However, the 23-year-old is still not sure if he is a member of the middle class.
"My educational background imposes a ceiling [on career development]. I have no access to learning state-of-the-art technologies at the workplace, which is also a hurdle," he says.
However, Su continues to work hard. He has passed the exam for intermediate technicians, and aims to become a production safety engineer to sharpen his competitive edge.
According to George Magnus, research associate at Oxford University's China Centre: "Upskilling the workforce is an urgent and vital requirement if China is to fulfil its economic ambition."
"The authorities have to address how to make vocational schooling an attractive option, improve their funding and organisation, and increase relevance for job prospects afterwards," Magnus said.
"They also have to boost distribution of income in favour of skilled workers, and ensure that private firms, which supply most jobs, are able to expand the range of positions and pay for such graduates."
More at: