The Department of Defense relied on a self-reported database to monitor possible negative side effects to the mandated COVID-19 vaccine, a spokesperson told the Daily Caller News Foundation.
Many military leaders and medical providers did not take allegations of adverse reactions seriously, military members said.
"Every doc I talked to about my 'issues' from the [vaccine] were ignored, not taken seriously," a military member told the DCNF on condition of anonymity.
The Department of Defense (DOD) mandated the vaccine for all servicemembers and marketed it as safe, but whistleblowers say their concerns about possible adverse responses went unheeded.
A spokesperson for the Defense Health Agency (DHA), which oversees medical services for the Army, Navy and Air Force, told the Daily Caller News Foundation DOD monitors a database where individuals can publicly report negative health events they believe may be related to the mandated COVID-19 vaccine. However, many instances were never entered into the database, while military supervisors suppressed concerns about the possible side effects of the mandated shot and ignored exemption requests, according to a whistleblower document and servicemembers familiar with the situation.
"Every doc I talked to about my 'issues' from the [vaccine] were ignored, not taken seriously, or I was told that my issues were due to my age," a military member told the DCNF.
The military members who spoke to the DCNF did so on condition of anonymity for fear of endangering their careers.
The DCNF obtained a 101-page whistleblower document provided to Congress in January 2022, detailing multiple cases of apparent vaccine injury. The document is divided into four sections, with the first containing seven first-person testimonies from injured members as well as medical documentation.
One Air Force reservist experienced at least one stroke that caused severe, career-ending eyesight dysfunction after her second dose of the Pfizer-BioNTech vaccine, testimony and medical documentation shows. The member said she felt compelled to get vaccinated contrary to her sincere beliefs.
Another member, an Air Force fighter pilot instructor, was diagnosed with pericarditis (heart inflammation) and anaphylaxis (a severe allergic reaction) on Dec. 21, 2021 after rushing to the emergency room less than a day after receiving a single dose of the Johnson & Johnson vaccine in October, according to testimony and medical documentation.
The member was grounded for a month and said his medical superiors refused to grant future vaccine exemptions.
"I'd had adverse reactions to the flu mist, flu shot, anthrax, and yellow fever vaccines with similar ingredients. The chief medical doc on base literally told me, 'While you're the perfect candidate for an exemption, we've been directed to deny all medical requests,'" another member told the DCNF.
"That was it. No letter given," the member continued.
A Marine Corps aviation safety officer whose job involves reviewing incident reports said he noticed a "disturbing" increase in medical reports coinciding with the introduction of the COVID-19 virus, testimony and copies of the reports show. Incidents were not entered VAERS or monitored as vaccine reactions or injuries, the officer said.
"I have had some members tell me that the doctors they saw dismissed their symptoms," a civilian physician for the Air Force National Guard told the DCNF. "If symptoms weren't dismissed, they would either ignore the possibility of vax injury, or would outright tell people that there's no way the vax caused their symptoms."
'Safe And Effective'
The Vaccine Adverse Event Reporting System (VAERS) is an early warning system for potential health dangers a vaccine could present, according to its website. Individuals who experience a health event they believe may be related to a vaccine can voluntarily submit a report in VAERS, but the reports do not establish causality.
The CDC and FDA monitor VAERS for patterns of reactions that may suggest a need for further evaluation of a vaccine, even if it passed official trials, the website says. The Pentagon says it tracked VAERS submissions from servicemembers.
"DOD tracks Centers for Disease Control and Prevention (CDC)/Food and Drug Administration (FDA) [VAERS] submissions on DOD beneficiaries," DHA spokesperson Peter Graves told the DCNF. "A VAERS submission does not mean that the vaccine caused [or] contributed to the medical issue of concern."
DOD did not seek to distinguish typical short-term reactions from more serious long term effects reported by servicemembers, Graves said. "As a voluntary form, the submitter may or may not include that information," he added.
"Initially it appeared that there was going to be a specific tracking for military members, but nope, just VAERS," the flight doctor, who now serves as a civilian, told the DCNF.
However, some post-vaccine health scares were never entered into VAERS because military medics did not document medical incidents as possibly related to the vaccine, the doctor added.
Military medical diagnoses for active-duty members are entered into the Defense Medical Epidemiology Database, the physician said. However, it was unclear whether that data was being used to study vaccine reactions, and the DHA did not respond to follow up questions seeking further clarity.
In addition, causal links between most sudden-onset complications and each vaccine remain unclear; the CDC says it is still investigating cases.
"COVID-19 vaccines are safe and effective and severe reactions after vaccination are rare," the CDC said on its vaccine webpage, adding the benefits of vaccination outweigh the potential risks.
However, young males are at higher risk of pericarditis and myocarditis, another type of heart inflammation, typically within a week of receiving a second dose of a shot that relies on mRNA technology, the CDC found. Both the Pfizer-BioNTech and Moderna vaccines use mRNA.
Patients who develop myocarditis or pericarditis typically respond to medicine and can resume normal activities, but the disease can resurface months or even years afterward, according to the National Heart, Lung and Blood Institute (NHLB).
A DOD study published in June 2021, prior to the mandate, found unusual rates of heart inflammation among previously healthy male servicemembers who received either of the mRNA vaccines. Researchers expected to find up to eight cases among fully vaccinated males, who make up roughly 80% of the total force according to a 2020 demographics report, but instead recorded 20.
"The observed number of male military members who experienced myocarditis after their second dose of mRNA vaccine, while relatively small, is substantially higher than the expected number," the researchers wrote, cautioning that patients who contract COVID-19 are also at risk of heart injuries.
The VAERS database shows one instance of myocarditis for Pfizer-BioNTech doses administered by the military for the years 2021 and 2022. Records show that the patient died and had a previously undiscovered anomaly in his left artery, which apparently preceded his vaccination.
The CDC performed a follow up surveillance study of Americans ages 12 to 29 who filed VAERS reports indicating pericarditis between Aug 24, 2021, and Jan 12, 2022. Of the 393 patients with a health care provider assessment confirming the VAERS report, 32% had not received clearance for all forms of physical activity at least 90 days post incident.
A history of chronic or recurrent myocarditis or pericarditis can disqualify someone from military service, according to DOD instruction.
More at:
---
---
East Palestine Train Derailment: What is vinyl chloride and what happens when it burns?
Days after crews released and burned toxic chemicals transported by a wrecked train in Ohio, residents remain concerned about the toxic substances that could be lingering in their evacuated neighborhoods.
About 50 cars, including 10 carrying hazardous materials, derailed in a fiery crash Friday in East Palestine, according to rail operator Norfolk Southern and the National Transportation Safety Board. Vinyl chloride was slowly released into the air Monday from five of those cars before crews ignited it to get rid of the highly flammable, toxic chemicals in a controlled environment, creating a dark plume of smoke.
Residents in the immediate area there and nearby in Pennsylvania were evacuated beforehand because of health risks from the fumes and can't yet return Wednesday, as the impact of burning vinyl chloride is a concern.
WHAT IS VINYL CHLORIDE?
The gas is used to make the polyvinyl chloride hard plastic resin in plastic products. It is found in products such as credit cards, furniture and car parts, but is most notably used in PVC plastic piping, a common material for plumbing.
IS IT DANGEROUS?
Vinyl chloride is associated with increased risk of liver cancer and other cancers, according to the federal government's National Cancer Institute.
The effect was studied in PVC pipe makers, who breathed in vinyl chloride and developed rare liver cancers, said Ruth Lunn, who studies carcinogens at the National Institute of Environmental Health Sciences.
"If you worked longer, you had a higher risk, and if your exposure levels were high, you had a higher risk," Lunn said.
Vinyl chloride is dozens of times less toxic per molecule than the U.S.-banned insecticide DDT but more dangerous per part than ammonia and natural gas, according to federal regulations that dictate acceptable levels in the air.
WHAT HAPPENS WHEN IT BURNS?
Officials warned the controlled burn would send phosgene and hydrogen chloride into the air. Phosgene is a highly toxic, colorless gas with a strong odor that can cause vomiting and breathing trouble and was used as a weapon in World War I.
Phosgene is considered safe at 0.1 parts per million during an eight-hour exposure, or 0.2 ppm for a 15-minute exposure. The eight-hour exposure threshold would have to be even lower when measuring inside people's homes, where residents often spend more than eight consecutive hours.
Hydrogen chloride is a colorless to yellowish gas with a strong odor and its primary effect on humans is skin, eye, nose and throat irritation. It is considered safe at 5 ppm for an eight-hour exposure.
More at:
---
More Than a Dozen Trains Have Derailed in the U.S. This Year
The explosive train derailment that recently led to the evacuation of an Ohio town was among more than a dozen reported rail wrecks in the U.S. since the year began.
On February 3, a tanker train derailed in the Ohio town of East Palestine, near the state border with Pennsylvania. The crash led to multiple explosions and chemical leaks, prompting the governors of both states to issue evacuation notices for the town and its surrounding areas. Controlled burns of the vinyl chloride from the train's tanks were initiated, with residents warned that the air could be flooded with dangerous gases like phosgene and hydrogen chloride.
The fiery crash was one of more than a dozen train derailments reported in the U.S. this year, only 1 1/2 months in. Another wreck, on January 19, also occurred in Ohio, with several train cars stretching over miles derailing between the towns of Trinway and Adam's Mill, according to the Times Recorder. It was considerably less destructive than the one in East Palestine, as the cars were empty, though cleanup efforts were projected to last for a week.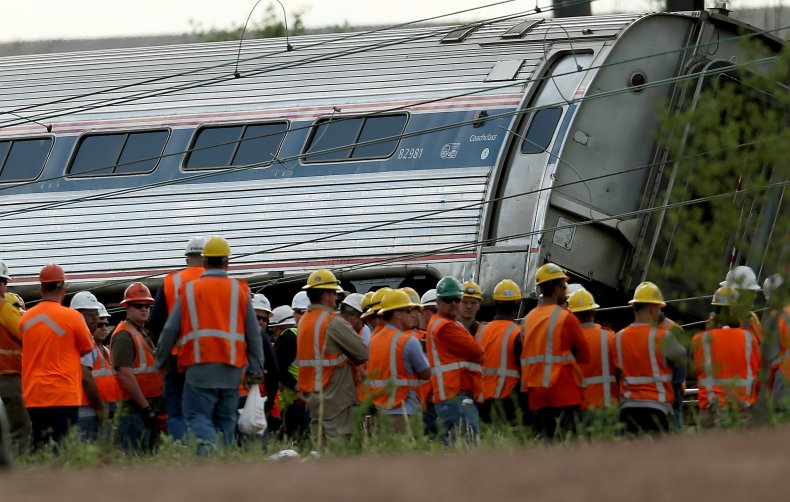 Most of the reported crashes this year, three in total, occurred in South Carolina, though one has not been fully confirmed by Newsweek. The first took place January 9 in Lake City, with 20 cars derailing after the train struck an empty car left on the tracks. No injuries or deaths were reported. The next one occurred near Loris January 21, involving multiple cars carrying rocks and gravel tipping, which tipped over. The third incident, reportedly near Enoree on Monday, remains a developing story, with few details available.
Two other crashes took place in remote parts of California, with at least one reportedly carrying grain. No details emerged about the other train's cargo, though officials did confirm that the derailment did not result in any leaks.
A pair of derailments notably occurred in major metro areas. On February 1, a train fell off the tracks in Detroit, Michigan, leaving several cars hanging over the side of a bridge. The other incident involved a passenger train in Philadelphia, Pennsylvania, which resulted in no deaths or injuries.
More at:
---